Why Choose Norfolk Island Your Ideal Holiday Destination? An Ultimate Guide to Norfolk Islands
Written by

Nancy Canavesi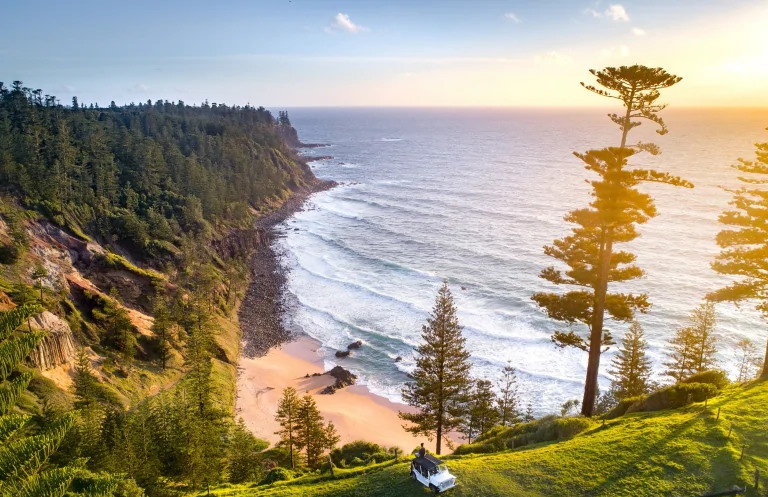 Norfolk Island is a serene place in the South Pacific, about 900 kilometres from Australia's east coast, from where you can get away from all your daily routine hustle. It is well-known for its stunning scenery, quiet sheltering choices, rich heritage, and pleasant locals.

This destination has everything you need to be at the top of your holiday wish list, and you will even get plenty of things to do – explore the place with best holiday packages offered in holiday homes
Because of the island's subtropical climate, the weather is temperate all year, making it an excellent time to visit Norfolk Island at any time of the year. If you are planning a Norfolk Island holiday, then visit during rainy winter that lasts from April to August, or a dry summer that lasts from September to March. The following is a list of reasons why Norfolk Island should be your next vacation destination:
1. It is Much Convenient to Get to The Island.
Norfolk Island is suitable for individuals, couples, friends, and group members looking for a fast and convenient getaway. Travel to Norfolk Island which is just a few hours' travel away from Australia's east coast. Australians visiting the island do not need to swap their currency since the Australian Dollar is recognised widely. Kiwis travelling with New Zealand passports can also enter the island as travellers without a visa.
Norfolk Island deals: lodging on Norfolk Island is very cheap. Thus, if you want an accessible destination with much of the fantastic qualities associated with many international destinations, Norfolk Island's vacation is a good option.
2. Bustle is Matched with Solitude.
Don't you think holiday in Norfolk Island is a refreshing and exhilarating experience? Norfolk Island is an ideal alternative for those wanting privacy. This is attributed to the fact that a National Park occupies about one-third of the island. However, because the island is so remote, even if you feel like you're in the middle of nowhere, you're never far from stores, cafes, and restaurants. As a result, the island will have a lovely escape without losing the balance between peace and bustle.
3. Numerous Sense-Activating Activities
If you're travelling alone, with your children, or with your significant other, the island has a plethora of activities to keep you entertained throughout your stay. Bushwalking, camping, snorkelling, bowling, baseball, mini-golf, basketball, surfing, fishing, swimming, and many other activities are basic activities on the island. Infact many Norfolk Island holiday packages include these adventurous activities,
Several establishments have beauty therapies, yoga workshops, and massage facilities if you want a more private spa experience. Since Norfolk Island has a peaceful atmosphere, you can do most events at any time of year.
4. Take Part in Timeless Fun Activities
While you can enjoy your iPads, iPhones, and other devices, one thing is sure: the entertainment provided by these devices cannot compare to some outdoor sports such as cart riding and horseback riding. Getting lost with the kids in the famous hedge-maze in Norfolk is another timeless experience that will steal your breath away.
5. An accommodation that is Both Peaceful and Affordable
While there are many places to stay on Norfolk Island, none can contend with Hideaway Retreat regarding serene accommodation facilities. Hideaway Retreat is well-known on Norfolk Island for offering excellent lodging. The retreat is situated in a subtropical forest. It provides inexpensive private rooms, making it a perfect destination for people looking for a peaceful private getaway from the hustle and bustle of life.
Now, let's talk about Norfolk Island Tours and Norfolk Island Holiday Packages in brief!

Norfolk Island Tours
Norfolk is an island rich in tradition, adventure, culture, and suspense, and there are many fascinating and exciting tours available to discover, teach, and attract visitors.
If you're interested in the historic prison colonies or the curious fate of Fletcher Christian and the Mutiny on the Bounty, there's a tour for you. Norfolk Island also has a fantastic selection of arts and crafts, catering, bushwalking, and environment tours, meaning there's plenty for everybody.
Norfolk Island Holiday Packages
With a great collection of Norfolk Island holiday packages planned to save you time & expense, planning your trip can be as enjoyable as your vacation itself. By incorporating all of your travel demands into one affordable package, you can not only save money but also receive a host of extra perks such as free nights, accommodation upgrades, flights, breakfasts, hotel coupons, and more. Simply book your tickets, accommodations, travel insurance, and tours all at once, and you'll be able to pick from a great list of benefits. Norfolk Island offers one of the best holiday packages in and around Australia!
Breakfast Bush Walks, Complete with New Fresh Fruits from the Gardens.

Mountain Biking in National Parks is an everyday activity.

Charters for Deep Water Diving.

A Young Island Fish Poised on the Rocks.

Dinners in Progress.

Dino's Restaurant.

Tours of Settlements.

Tours of Ghosts.

Tours on Glass-Bottom Ship.

Norfolk Island Cyclorama.
Ideal Time for Shopping!
When it comes to shopping a list of things, Norfolk Island is similar to exploring a country town, with the regular shopping hours on Norfolk Island being between 9 a.m. and 5 p.m. Shops shut at 12:30 p.m. on Wednesdays and Saturdays. The majority of stores are closed on Sundays, with a few open doors until 12:30 p.m. So, if you want to travel to Norfolk Island and explore shopping out there, I prefer you to go on weekdays than on weekends.
Foodland's Store, the largest supermarket on Norfolk Island, is open seven days a week until 6 p.m. for your daily shopping needs. Each Saturday morning from 7.30 a.m. to 10.30 a.m., the Farmers Markets are open. Each Sunday morning from 8.30 a.m. to 11 a.m., the Island Arts and Craft Markets are free.
Conclusion!
Overall, Norfolk Island is an excellent choice for people looking for a comfortable vacation spot. The island has a lot to sell, and it is relatively easy to get to. As a result, if you're searching for a tropical getaway for your next vacation, a peaceful holiday in Norfolk Island is a great option!