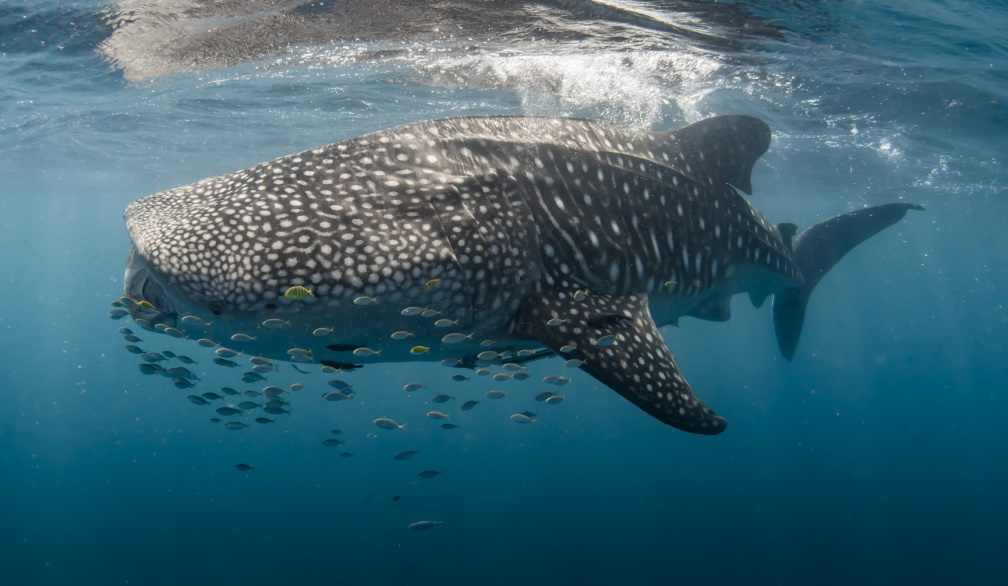 Western Australia is preparing for another successful whale shark season, following recent sightings of the world's largest fish at Ningaloo Reef in the State's Coral Coast.
In 2021, a record number of 34,000 visitors travelled to Exmouth and Coral Bay to swim with whale sharks, that migrate to the shores of Western Australia between March and July each year to feed on plankton and krill.
Boasting one of the highest interaction rates at 97 per cent last season, World Heritage-listed Ningaloo Marine Park remains one of the most reliable places on Earth to swim with the giant fish.
Australia's Coral Coast CEO David O'Malley attributes the success of the region's whale shark swim season to a specialist group of licensed professionals responsible for consistently providing a sustainable and memorable tour experience.
"Visitors can be assured that our 11 passionate eco-tourism operators will deliver an authentic, humbling and life-changing adventure on the waters of Ningaloo Reef," Mr O'Malley said.
"We are one of the only places on Earth where tourists can experience the big three – manta rays, humpback whales and whale sharks, in the one spot and, on occasions, at the same time when the migration seasons align."
The Parks and Wildlife Service at the Department of Biodiversity, Conservation and Attractions manages whale shark interactions through a licensing program that protects both the whale sharks and swimmers.
Whale shark swim tours will begin operating in March from Coral Bay and Exmouth, and will continue through to late June (in Coral Bay) and late July (in Exmouth), allowing visitors the opportunity to have a face-to-fin encounter with the friendly giants – which are around four to 11 metres in length.
At 300 kilometres long, Ningaloo Reef is one of the world's largest and most accessible fringing reefs. Visitors can walk straight off the beach and snorkel in the underwater wonderland teeming with brilliant coloured coral, manta rays, sea turtles and more than 500 species of tropical fish.
The region has become more affordable, with Qantas offering special fares between Perth and Exmouth from now until December 2022. One-way tickets are priced from $159 during low season and $169 during high season.
With greatly reduced one-way hire car rental fees between Perth and Exmouth with Avis Australia and Hertz, visitors can self-drive experience other highlights of the Coral Coast Highway such as Geraldton, Kalbarri and Shark Bay.
For further information on swimming with whale sharks and booking a trip to the Ningaloo coast visit www.westernaustralia.com.