Mykonos: one island, multiple ways to stay and play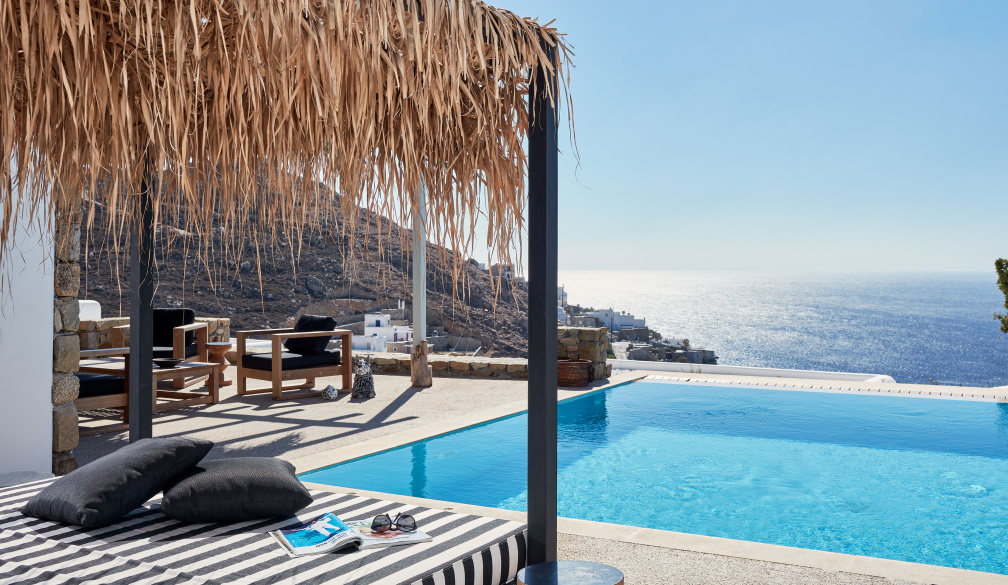 As Australians plan their dream voyages in droves after an extended break from travel, bucket-list destinations such as the Greek isles will be at the top of the list for those looking to treat themselves.
Recent studies suggest Australian travellers plan to take two international holidays during the next two years[i], including trips to make up for lost family milestones[ii] and with the Greek isles regularly voted among Australians' 'top 10' must-visit destinations[iii], as well as one of TripAdvisor's 2022 Trending Destinations, the islands are preparing to welcome back Australian travellers with open arms.
Among the myriad Greek isles to discover, Mykonos was enjoying a renaissance among sophisticated Australian travellers before the pandemic, so there's plenty of pent-up demand for the island's unique blend of lively villages, beautiful beaches, authentic cultural experiences, warm hospitality and picture-perfect accommodation, and with direct flights resuming from Sydney to Mykonos via Doha, Australian visitors will once again be enjoying an iconic Mykonos sunset with a side of spanakopita in record time.
A veritable one-stop-shop for an immersive experience of Greek island life, travellers to Mykonos can discover ancient UNESCO World-Heritage-listed ruins on nearby Delos, hit the dance floor at iconic beach clubs, stroll cobbled streets in whitewashed villages, enjoy traditional Greek hospitality in local tavernas and sail the turquoise Aegean Sea – from the one island location - eliminating the continual packing, unpacking, transfers and COVID compliance associated with traditional island-hopping holidays.
And for couples, foodies, families and groups of friends following the latest 'revenge travel' trend of booking longer, more luxurious stays, the 11 boutique properties of the Myconian Collection occupy the most sought-after real estate on the island from Elia Beach, Ornos Beach and Platis Gialos to vibrant Mykonos Town. Guests at the Myconian Collection enjoy a variety of the most fascinating locations, avant-garde spa centres, gourmet restaurants, first-class conference facilities and magnificent wedding venues.
While living up to the most elevated hospitality standards and embracing family values, each hotel in the Myconian Collection portrays its own original personality and style covering a broad range of accommodation types, rates and entertainment options.
On the unspoiled Elia Beach which is renowned for its fine sand and crystal water, the Myconian Utopia Resort- Relais & Châteaux,  the Myconian Avaton Resort – A Member of Design Hotels, the Myconian Villa Collection Member of Preferred Hotels & Resorts, Legend Collection, as well as the Myconian Imperial and Royal Myconian Resorts – both eminent members of the  Leading Hotels of the World – all command panoramic views of the Aegean sea from spectacular pool decks and private terraces.
On top of the hill boasting 360° views of the Aegean Sea, Panoptis Escape is the latest addition to the Myconian Collection family – a private celebration of laidback luxury on the serene southern coast of Mykonos. With its stunning, spacious villas offering ample opportunities for specially curated experiences, this proud member of the Small Luxury Hotels of the World takes a holistic approach to accommodation tailored to the desires of guests looking to enjoy the good life in the footsteps of the Greek gods.
Further south, the Myconian Ambassador - Relais & Châteaux is the epitome of contemporary refinement perched over the stunning bay of Platis Gialos – the pearl in a string of celebrated beaches that includes the adjacent Psarou, Agia Anna and Paranga.
Ιn Mykonos Town, overlooking the emblematic Alefkandra windmills, on the very site that the Group's founder erected his first hotel, the five-star Myconian Kyma – a Member of  Design Hotels, the Myconian Naia – Luxury Suites, LVX Collection, Preferred Hotels and Resorts and the Myconian Korali Relais & Châteaux, complete a brilliant constellation that is without peer in the Aegean.
And a new property, occupying a prestigious beachfront spot on the island's highly desirable Ornos Bay, just two miles south of Mykonos Town, the 5-star O by Myconian Collection invites discerning travellers to immerse themselves in an intimate dialogue between nature and design while enjoying Myconian Collection's renowned hospitality and luxury leisure offering.
As a natural Myconian family, the owners welcome guests with affection and attentiveness and hospitality that comes straight from the heart, remaining true to their ancient Greek forefathers who believed that hospitality was a sacred obligation.
"We're beyond excited to be throwing open our windows and welcoming guests for the forthcoming summer season, and we can't wait to see our loyal guests return and to welcome first-time visitors to discover the magic of Mykonos from their home-away-from-home at one of our Myconian Collection hotels," said Vangelis Daktylides, Managing Director of Myconian Ambassador Hotel.



"We've spent decades fine tuning our unique blend of exceptional service, luxury accommodation and good old-fashioned Greek hospitality," explained Mr Daktylides, "with guests returning year after year to enjoy the authentic local experiences we organise, as well as the personalised attention we offer every visitor, from collecting their shopping and unpacking suitcases to organising a donkey ride to a romantic beach dinner, booking a charter yacht, private helicopter flight or snaring an elusive table at one of the island's hottest restaurants."
In addition to superlative service, gastronomy is a serious business at the Myconian Collection – and across the entire island of Mykonos – with the Daktylides family nurturing relationships with local producers to share a true taste of Mykonos with its guests using fresh farm-to-table ingredients, such as lamb and pork hand-reared on the family's own land, and octopus sourced from one of the Mykonos' most renowned fishermen.
The official 'season' to visit Mykonos runs from May until October, and there is still select availability across the Myconian Collection's portfolio of boutique hotels and villas in idyllic beach, hilltop and town locations.
"Across our properties we still have select vacancies through to October, and we have accommodation options to suit couples, families, friends or multi-generational groups. There's still time to plan an unforgettable Greek getaway to explore the magic of Mykonos," said Mr Daktylides.
For more information about the Myconian Collection Hotels & Resorts, including 2022 season bookings (May – October) and beyond, visit: www.myconiancollection.gr