Local tips to plan your Tropical North Queensland summer trip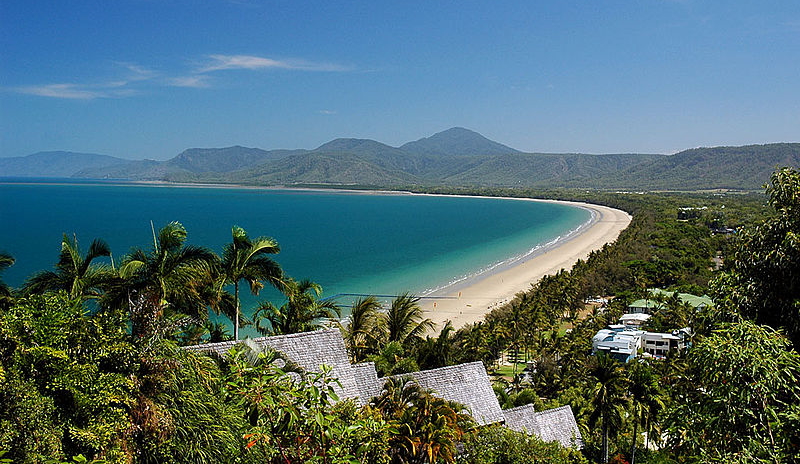 Summer is a full sensory experience in Tropical North Queensland where the rainforest comes alive with waterfalls topped up and market stalls overflowing with colourful tropical fruits. With the warmer season now in full swing, plan your summer trip to Tropical North Queensland with these local secrets to add some memorable experiences to your stay.
ENJOY A PRIVATE SWIMMING HOLE
Feeling peckish and want to take a dip in a private swimming hole? Mason's Café in Cape Tribulation is renowned for its private freshwater swimming hole where you can plunge in for a dollar. Look for the signs in the rainforest a few hundred metres behind the café and walk through to discover the clear water surrounded by mossy rocks and tropical vines. It's the perfect stop on your road trip to fuel up on food and take a refreshing dip on a hot Daintree day. The water hole is crocodile-free and if you're lucky you may spot turtles and native freshwater fish.
CHOOSE SUSTAINABILITY AND GET $10 BACK FROM YOUR PORT DOUGLAS ACCOMMODATION
With sustainability the essence of the tourism and hospitality industry, the Sheraton Grand Mirage Resort, Port Douglas is giving guests options to help the planet and their pocket during their stay. Skip the daily housekeeping for a $10 voucher to use at select restaurants and bars within the resort. A little bit can go a long way the next time you're holidaying in Port Douglas.
SNORKEL ALONGSIDE TURTLES AT A SECLUDED ISLAND
Snorkel with green turtles as they snack on breakfast when you join the 7.30am Calypso Reef Cruises half-day tour to Low Isles. Calypso gets you to the carbon-neutral island as the turtles are sleepily starting their day in the calm lagoon. Spend 2.5 hours snorkelling over colourful corals with the fish and visit the island's lighthouse to discover its maritime legends.
ENJOY BEACHES WITHOUT THE CROWDS
Nudey Beach on Fitzroy Island has the honour of being one of Australia's best beaches having won the title in 2018. Once you hop off the ferry from Cairns, it's a beautiful walk through the rainforest to Nudey Beach; a lovely stretch of white sand where you will rarely find more than a handful of people. Just remember, it is nudey by name, not nudey by nature, so keep that swimsuit on. Ellis Beach is a 35-minute drive north of Cairns and boasts the peace and quiet you'd expect to find on a deserted island. The long stretch of beach has more than a kilometre of sand between rocky headlands perfect for leisurely walks.
TASTE EXOTIC ICE CREAM AND GELATO FLAVOURS
Classic vanilla and chocolate will seem rather dull flavours when you stop for an ice cream on a road trip in Tropical North Queensland. On the Great Barrier Reef Drive at Cape Tribulation, you'll find the Daintree Ice Cream Company who've been making premium gelato from their orchard's organic fruit since 1993. Think mangosteen, Davidson's plum, black sapote, jackfruit and many more. Order their Signature Cup to try four exotic flavours which change based on what fruit is in season. On the way to the Atherton Tablelands via Kuranda, stop at Emerald Creek Ice Creamery for a mango ice cream and continue your drive past trees laden with the luscious summer fruit.
KEEP COOL DURING SUMMER WITH THE TOP SPOTS FOR CHILLED BEVERAGES
With summer well and truly here in the Tropical North, sip on refreshing beverages to keep rejuvenated. Guyala Café serves the perfect summer drink with their house-made tepache; a traditional Mexican drink crafted by fermenting pineapple for three days with cinnamon, star anise and cloves. Try The Chamber Room's tonic brew; a combination of seasonal cold drip coffee, Fever Tree tonic water and ice or sip on iced teas made using the finest organic and natural ingredients at tea lounge, The Secret Jungle. For matcha lovers, head to VT Espresso located just outside the Night Markets.
MUNCH ON A CLASSIC FAVOURITE FROM A PORT DOUGLAS INSTITUTION
A pie is the perfect quick lunch on a summer road trip so if you're on the Great Barrier Reef Drive, call into Port Douglas for the famous Mocka's Pies. Mocka's Pies has been synonymous with a visit to Port Douglas since it was founded in 1969. Exotic flavours include Crocodile Laksa and Bush Kangaroo. Chef Nigel Quinn used to eat Mocka's Pies as a child on the back of his father's ute and many years later, in 2009, Neil bought the business to continue the Port Douglas pie tradition.
EAT LIKE A LOCAL IN THE SUBURBS OF CAIRNS
It's easy to find a great restaurant along the Esplanade strip, however, you may need a local to discover unexpected gems in the suburbs. Just 4km from central Cairns is Edge Hill; home to some of the best suburban eats from modern Mexican food with a killer cocktail list at Guerrilla to authentic Northern Thai cuisine at Samgasat. Bookings are necessary for these local haunts if you want to enjoy a pulled brisket empanada or whole fried fish with tamarind, chilli and herbs. In the tranquil suburb of Holloways Beach, wine and dine with modern European inspired share plates and carefully crafted cocktails at Code. Brunch is their speciality next door at Two Blocks Café where the ever-changing menu teases with the likes of sticky date donuts with miso butterscotch and burnt milk ice cream or karaage fried chicken eggs benedict.
TIPS FOR HUNTING DOWN AN EVENING TIPPLE
There's nothing better than ending your day in the tropics with a cold beverage at a bar with the best views of Cairns while watching the sun go down. At the Oaks Cairns Hotel, head upstairs to rooftop bar Oak & Vine and watch the colours change over the Coral Sea and the Esplanade lagoon with their 'Sippin' On Sunset' special with a charcuterie board and two cocktails for $50 Monday to Thursday. Head to Whiskey & Wine at the playful and modern Crystalbrook Flynn hotel to watch cocktail connoisseurs mix up a treat. For those staying at the hotel, you can buy a whole bottle of whiskey from the cocktail bar that they will keep for you on a high shelf during your stay so you can call in for a nip whenever you please.
EXPERIENCE THE REGION LIKE A LOCAL
Explore rainforest rivers on tours that take you to some of the best-known local swimming holes. Bounce over small, white water rapids on a tubing tour of the Mulgrave River with Cairns Adventure Group. If you'd rather relax than rush, set your own pace and glide along the crystal clear creek of Babinda, one of Australia's wettest towns with Babinda Kayaking. Hire a kayak or stand-up paddle-board and wind your way between Queensland's two highest mountains alongside fish, turtles, and the occasional platypus before pulling up on the banks for a picnic lunch from the old fashioned Babinda Bakery. Go River Drift Snorkelling with Back Country Bliss – it's swimming, snorkelling, floating and a rainforest walk all combined! Step into the cool, crystal-clear river water in the Daintree Rainforest and drift with the current as you explore life under the water's surface and ride gentle rapids under the canopy of the world's oldest rainforest.
GO MOUNTAIN BIKING TO A WATERFALL
Hop on a bike and immerse yourself in nature with trails and tracks leading to the refreshing reward of a rainforest waterfall. Biked offers a half-day Wangetti and Hartley's Falls mountain biking tour which is perfect for all abilities. The single track takes you through scenic rainforest trails, before opening up to reveal eucalyptus and she-oak trees, finishing up at Hartley's Creek Waterfall.
For more information go to cairnsgreatbarrierreef.com