Fixed Price Taxi Fares for Byron Bay and Ballina Residents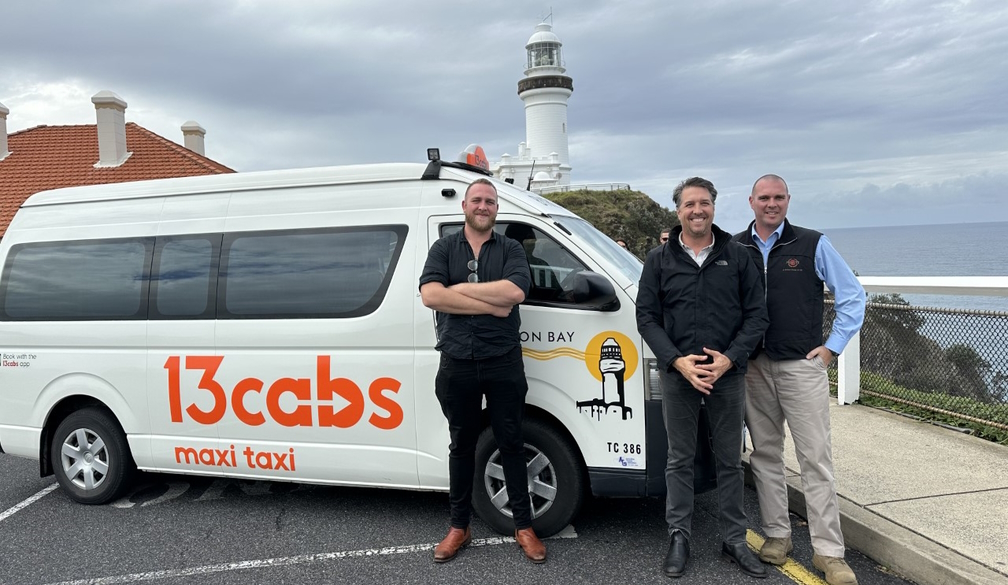 Byron Bay and Ballina residents can now get guaranteed fixed price taxi fares by booking through a national taxi booking app – while still experiencing the same great local service.
Byron Bay Taxis and Limousines has joined forces with Australia's number one taxi company, 13cabs, to utilise its sophisticated despatch service to ensure passengers not only get a great price for their trip, but can quickly and easily book a taxi.
Byron Bay Taxis and Limousines is a locally family owned and operated business. The company has been based in Byron Bay for more than 30 years and operates a fleet of 20 maxi taxis, sedans and luxury hire cars.
Co-owner Jason Erickson said partnering with 13cabs was all about improving customer service, as the company could now leverage the nation's best booking app and website, a professional 24/7 contact centre and excellent driver recruitment programs.
"Customers will love the price guarantee feature available when using the app as they can avoid surge charging which is prevalent across ride-share platforms," he said.
"We are still locally owned and operated, with a mission to substantially improve the quality of our service. Leveraging the technology available with 13cabs enables us to do this and we hope this makes our customers lives easier."
Mr Erickson revealed the company was also aiming to more than double the size of its fleet, with further expansion into Ballina and surrounding areas.
When booking through the 13cabs app – or by ringing 13cabs main contact centre on 13 22 27 - anyone in Byron Bay, Ballina or surrounds will be automatically connected with a Byron Bay Taxis vehicle. As well, residents can still book a taxi through the existing number, 6685 5008.
A spokesman for 13cabs, Rod Poissant, said 13cabs modern booking app was designed to help local taxi services give their residents a great deal.
"We are delighted to work with Byron Bay Taxis and Limousines, and in turn, help the people of Byron Bay, Ballina and those living in its beautiful surrounds," he said.
Download the 13cabs app at Apple or Google Play stores