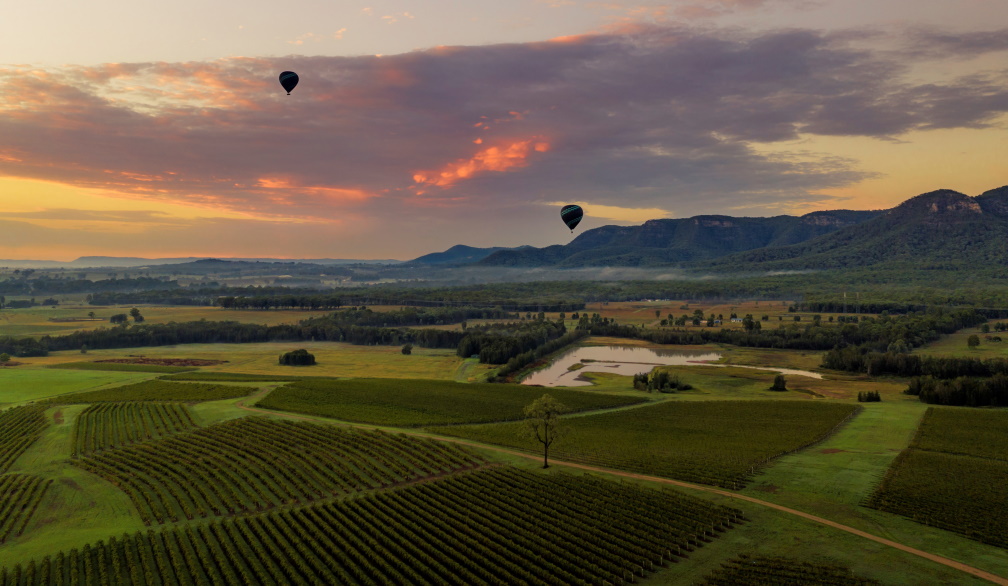 You don't have to drive far from Sydney to find yourself surrounded by some of the state's freshest, most innovative, food and drink offerings. Whether slurping just-shucked oysters, learning how to make cheese, sipping award-winning wines and beers or sitting down to a degustation in an incredible restaurant, here are the essential culinary stops on any journey around the New South Wales Central Coast and Hunter Valley.  
Hawkesbury and Killcare 
The Hawkesbury region of New South Wales, which begins just a 45-minute drive northwest of Sydney, is known as a 'food bowl' for good reason. On land, there are apple orchards and fertile farms; and in the Hawkesbury River are grown some of the tastiest oysters you'll come across. At Broken Bay, take the Mooney Mooney Oyster Farm Tour for an eye-opening 90-minute jaunt along the river, with plenty of opportunities to learn about the production cycle of these molluscs and try them freshly shucked.  
Leave room for lunch at bakehouse Saddles, a 10-minute drive north in Mount White. The dining room here looks over a lake, making it a scenic spot for pork-and-fennel sausage rolls or piping hot donuts filled with dulce de leche caramel. Or enjoy the great outdoors over a seasonal long lunch at Cooks Shed, Sackville. 
From here, journey 30 minutes northeast toward the Central Coast, where Firescreek Winery makes aromatic fruit and flower wines, which you can enjoy paired with chocolate or on a tour learning about the property's native produce. 
The next stop is Six String Brewing Co., less than five minutes' drive down the road. Head to the Tap Room for a craft beer and devour barbeque in the dining room, with regular live music to entertain crowds.  
You don't have to look far for a luxurious place to rest your head on this part of the coast. Try boutique hotel Bells at Killcare, with a delightful nautical style and plush villas and suites — it's just 25km south, surrounded by water on the Bouddi Peninsula.  
Wyong and Pokolbin 
Enjoy breakfast in the sunshine overlooking the beautiful grounds of Bells and fuel up for your next adventure with a menu based on ingredients from their kitchen garden. An extraordinary way to see the Central Coast is from above on a two-seat flying trike with Microlight Adventures, based in Somersby, 30km to the north. While you drift through the sky, your knowledgeable pilot and tour guide will point out some of the state's prettiest beaches and stretches of countryside.  
A short drive away, the Wyong Milk Factory Tavern serves up delicious pub fare — burgers, pizza, steak — in its colourful bistro for lunch; there's also a Thai restaurant, if you feel like some spice. Still in Wyong, Little Creek Cheese offers a 2.5-hour experience teaching you all the secrets behind making cheese — you also get to sample 10 varieties. 
This should sustain you for the hour drive north to Pokolbin and Spicers Guesthouse in the Hunter Valley, the state's oldest wine region. This sleek lodging comes with its own award-winning restaurant, but you're also just a short drive from some of the region's top cellar doors and independent dining rooms when it comes time for your next meal.  
Hunter Valley 
Linger over breakfast at Spicers then head to your Candymaking Class at Hunter Valley Resort. Make no mistake — this is an experience for grown ups, with peanut brittle and boozy rocky road both on the menu.  
No visit to this part of the state would be complete without hopping between cellar doors. Begin with a tasting at family-owned Tyrrell's, which has been making wines since 1858, as you'll learn on a classic tour around the estate. Brokenwood is just minutes away, and has indoor tasting 'pods' as well as an outdoor deck where you can enjoy charcuterie platters with a bottle from its famed Brokenwood Cricket Pitch range.  
Wine House Hunter Valley showcases a variety of boutique wines — settle in for their Hunter Valley Icon Tasting, revealing some of the region's most legendary vintages. Or you can go straight to the source when you visit Usher Tinkler Wines, housed in a beautiful restoration of the original Pokolbin church, circa 1905.  
If you have children, be sure to stop by Tulloch Wines, which offers a Junior Tasting Experience with soft drinks and matching snacks for young foodies, and also a Kombucha Tasting Experience for teens or non-drinkers. 
Need a palate cleanser? Go on a brewer's tour of Hunter Beer Co., or simply sit back with a schooner of one of their handcrafted, traditionally made ales and lagers. Stop across the road at IronBark Hill Brewhouse to try its craft beers and ciders and (on Friday nights) woodfired pizza at the Brewhouse Kitchen. If you want yet more, drop by the brewery at Hope Estate to try a paddle of award-winning craft beers, or order a full flight with matching cheese.  
Dairy fans will also want to linger in the Smelly Cheese Shop, stocked with an enormous range of artisan Australian and international cheeses, plus everything else you need to make up an antipasto platter. Add more foodie fun into the afternoon with the entertaining Two Fat Blokes, which offers a one-hour cheese and wine matching experience.  
If you're still in the mood for food, sit down to a mod-Australian meal at Circa 1876, set in an historic cottage on the Roscrea Estate. For something more casual, head to Baumé for wood-fired pizzas and rustic mains designed to share.  
By this time you'll be looking for ways to walk off your indulgences. Go for a stroll through the lush Hunter Valley Gardens in Pokolbin, which feature themed areas — including an Italian grotto, Oriental garden and magical Storybook garden — across 24 hectares.