5 ways to restore happiness in Fiji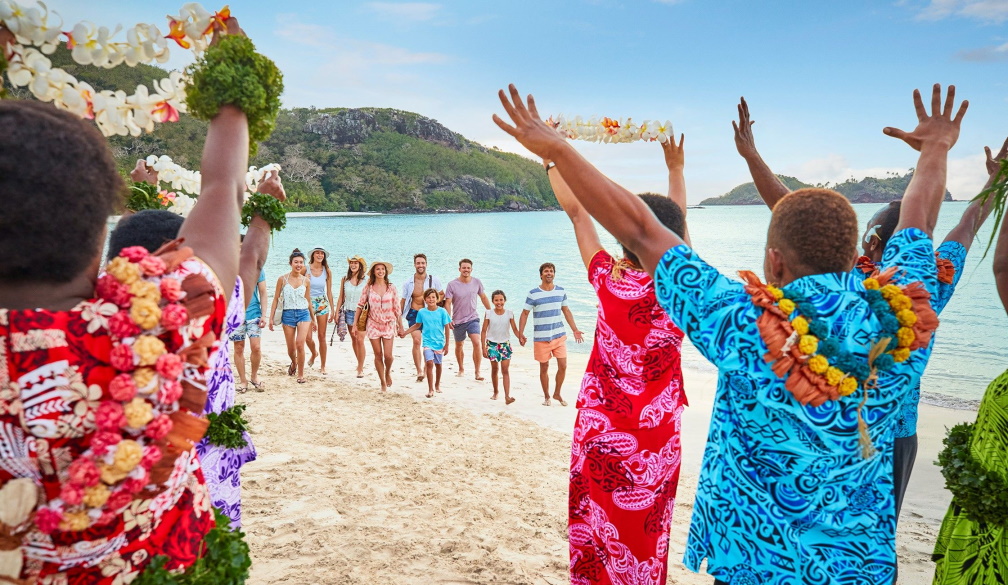 Reconnect with nature
With 333 islands in Fiji and over 500 small islets, there are plenty of ways to reconnect with nature. Whether you step of the shores of your resort or venture out a little further, Fiji's marine life is something of a natural wonder, untouched pristine reef, crystal clear waters, and if you're lucky, you may even get to swim with a Manta ray or a sea turtle. 
Fiji boasts nearly 800 species of plants found nowhere else in the world. The most famous of these is the tagimoucia flower which only grows on a single mountain ridge on the northern island Taveuni. 
Mainland Fiji, Viti Levu features a rock formation that looks like that of a sleeping giant. Once a private garden purchased by Hollywood Actor Raymond Burr, the 20-hectare Garden of the Sleeping Giant is home to 1,000 orchid hybrids and is one of the most popular tourist attractions in Nadi and Denarau, a sure-fire way to appreciate earth's natural beauty.

Make memories that'll last a lifetime
Fiji is home to a floating bar in the middle of the ocean, with only marine life as their neighbour. Cloud 9, just a 45-minute boat ride from Port Denarau, has its own wood-fired pizzeria, bar, on-site DJs and is in the middle of the ocean within the Mamanuca Islands archipelago. Mid-2022, visitors can get ready for double the fun as Seventh Heaven, a floating party platform gets ready to launch with infinity decks, endless day beds and views to die for. 
Fancy sailing around the islands? Jump aboard South Sea Cruises' newest cruise, Sabre. The day sailing catamaran boasts canopied shade for the flop and drop kind of relaxers or pull up a bean bag and make the most of the buffet lunch before strapping on your snorkel and checking out some of the world's best underwater aquariums. 
What better way to make a lifelong memory than jumping out of a plane with views over Fiji's islands, taking a ride in a seaplane or helicopter or swimming with some of the local reef sharks and Manta rays. Pack your go-pro because it's something you won't want to miss capturing.

Full belly, full heart
Convinced drinking and dining in Fiji begins and ends at its resorts? Fiji's vibrant - and varied - hospitality scene is coming of age, local restaurants, cafes and food tourism operators celebrating both local flavours with a tip of the hat to its rich multicultural history.  From the deservedly popular to those secret spots only insiders know about, Fiji's delightfully diverse dining scene has plenty to tempt your tastebuds.  
The Fiji Food Truck in Suva, an Insta-famous vehicle, serves up a host of goodies from fresh fish tacos and loaded fries to wahoo burgers. Just as famous with travellers are high-end restaurants Eden Bistro and Tiko's Floating Restaurant . 
In Denarau, KANU - Fiji's first gastropub, Daikoku, Cardo's Steakhouse & Cocktail Bar, round out the 'must visit' list, but for those looking for cheap bites, be sure to also check out Yeastie Boys for fresh baked goods.  
When you're known as Fiji's 'Garden Island', there's a lot to live up to when it comes to your produce and, happily, Taveuni delivers. Surrender to the ultimate foodie tour at Gaiatree Sanctuary, a spice plantation, day club and nectar lab. Book their Spice of Life Tour for a guided experience around the Fiji food forest and enjoy a vegetarian farm-to-table dining experience.

Immerse yourself in the Bula Spirit
The December 2017 Gallup International's Happiness, Hope and Economic Optimism Survey found that people in Fiji were the happiest in the world. In Fiji, 'Bula' is more than just a greeting – it's a wish for happiness, good health and the energy of life. You'll hear it everywhere you go in Fiji, bookended with the largest smile you've ever seen, it's impossible to not reiterate the pure joy that they radiate. 
The country is full of culture, from the resorts and attractions to the villages. Immerse yourself in the spirit by visiting a cultural experience like VOU, an explosive and vibrant experience that's rich in ancient stories, tradition and culture. There are also many ways to give back to the locals of Fiji. Visit one of Fiji's many beautiful villages, filled with beautiful people. Take a trip to their local school and donate education supplies or outdoor sports equipment for the kids or help out on community projects by laying concrete footpaths or painting the local hall. 

Invest back into the locals
Fiji has several brands and products, showcasing the incredible talent of the locals. Rise Beyond the Reef is one of these brands, a movement for change and bridging the gap between remote communities, government and private sectors in the South Pacific, they hire local women to make stunning products with a portion of the profits being returned back into the community. Pure Fiji and Nama Fiji are two beauty incredible beauty lines, the latter using locally sourced sea grapes to make their product and employing local women from the Yasawa Islands. 
Two things that humankind can't live without… Peanut butter and coffee, and Fiji has some of the best. Coffee Hub owned by Zoro is in the heart of Nadi and is home to some of the best coffee in town, with a name like Zoro, you can only imagine his coffee will be strong, rich and delicious. Island Time Peanut Butter is lovingly batch roasted with all natural ingredients and with locally sourced Fijian coconut oil. Kiwi family, the Pickering's are the creators, owners and operators of the nut butter. Three years ago, when visiting family in the island nation, the Pickerings identified a gap in the market; they picked up some roasted peanuts at a road-side market and made their own. Shortly after they were encouraged to sell it at the local markets and from there it blew up into the business it is today, loved by locals and international visitors alike.