Chiva-Som Expands Its Family Wellness Concept to Zulal Wellness Resort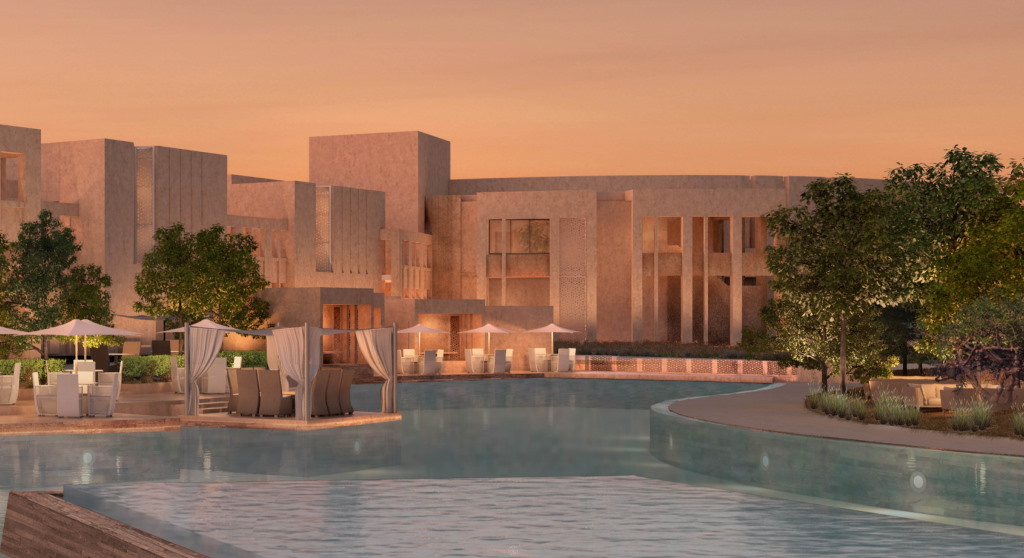 Scheduled to open in Qatar in early 2021, Zulal Wellness Resort by Chiva-Som marks a widely anticipated new venture for the international wellness resort brand.  Underpinned by Chiva-Som's belief that wellness is for everyone, the retreat will open its state-of-the-art facilities to adults and children alike as it strives to introduce the next generation to world class wellness, healthy lifestyle ideas and pioneering new practices based on Traditional Arabic and Islamic Medicine (TAIM).
Founding an approach to wellbeing rooted in the organic values of family life, Zulal Wellness Resort encourages guests to reconnect with quality time spent together by providing enhanced wellness support for all ages. The resort will function across two distinct areas: Zulal Discovery and Zulal Serenity. The dedicated family Zulal Discovery will offer 120 guestrooms and suites, each anticipating the needs of the modern family from interconnected rooms to age-appropriate facilities including connecting rooms, one- to three-bedroom villas, nursery studios, children's dance studio, family treatment rooms and a Family Wellness Centre.
Zulal's Family Wellness Centre, Knooz Al Sahraa, translating to 'Treasures of the Desert', is dedicated, in concept and design, to the holistic development of children and the importance of family connection. An innovative and expertly tailored range of fun, interactive activities will encourage younger guests to engage with and explore good lifestyle habits, giving them the best possible foundations on which to build. Activities in education, sports, creativity and nutrition, have been conceived around the characteristics of desert animals, as metaphors for developing key life skills in a playful manner. Spaces such as the Falcon Studio, signifying wisdom, vision and protection, aim to foster stronger connections between families and promote family bonding through curated experiences and activities that reinvigorate growth as a family unit. The Oryx Workshop, symbolising the strength and endurance of the desert Oryx, focuses on playful exercises, such as dancing and the role of nutrition, with opportunities to learn about herbs and local cooking methods. Serving as an icon for intelligence, The Fox's Den is designed to build cognitive development through physical and brain training exercises as well as focussing on creativity through arts and crafts.
Offering a holistic approach to health and wellness, whilst honouring wellbeing principles that are rooted in Arabic healing traditions, the spa menu will boast over 400 treatments, focusing on mental, physical and nutritional wellbeing. Designed for the resort's youngest guests and their families, Zulal's Nurture Kinder programme focuses on developing free expression, creativity and exploring physical movement, alongside learning the importance of healthy eating at a young age. The Hedgehog Nursery teaches young guests to develop new skills, with a dedicated rest area, soft spaces and play stations where they are encouraged to explore at their own pace. A Junior Retreat for young children will promote journeys of self-discovery with aspiring chefs' culinary activities, and health and wellness therapies from Reiki and head and shoulder massage, to mindfulness and breathing meditation. The resort's curated Adventure Teens Retreat promotes a healthy approach to young adulthood with guided activities from Thai Boxing Fit and bike rides, to Hatha Yoga and beach meditation. In addition, the Family Package encourages families to spend together sampling a range of activities suitable for all ages.
Chairman and CEO of Chiva-Som, Mr. Krip Rojanastien, said "Over the past 25 years we have witnessed a rapid and continuous evolution in wellness and lifestyle habits, seen health trends come and go, and experienced a sea change in the way people travel for their health and wellness. We are excited to have developed a new offering with Zulal Wellness Resort, whilst remaining committed to our principles of delivering holistic, sustainable wellness programmes which provide lasting transformation of mind, body and spirit. The ability to serve families in particular offers guests great flexibility, and we hope it will inspire wellness for a new generation."
Zulal Wellness Resort is managed by a world's leading wellness destination brand Chiva-Som, whose flagship in Hua Hin, Thailand has won global acclaim since its inception 25 years ago. The new wellness destination in Qatar will be the largest in the country, the Middle East's first full-immersion wellness resort, and the world's first centre for Traditional Arabic and Islamic Medicine (TAIM). Zulal Wellness Resort by Chiva-Som will offer a specially developed menu of Arabic and Mediterranean wellness cuisine, as well as cutting-edge architecture and services inspired by local heritage, both traditional and new.
For more information about Chiva-Som and Zulal Wellness Resort, please visit www.chivasom.com and www.zulal.com
ABOUT CHIVA-SOM
Since 1995, the company behind the award-winning Chiva-Som has been a pioneer in transformative wellness practices to global acclaim. Its commitment to an innovative, holistic approach which expertly balances mind, body and spirit, continues to this day with its flagship resort in Hua Hin, Thailand and the latest addition to the Chiva-Som family - Zulal Wellness Resort in Khasooma, Qatar.
Optimal, bespoke wellness lies at the heart of each Chiva-Som experience. With its unique synergy of indigenous traditions and evidence-based wellness, Chiva-Som partners with guests on highly personalised wellness journeys focused on complete lifestyle transformation.
Chiva-Som's genuine approach to wellness extends to the wider community, with educational opportunities and global sustainability initiatives at the core of everything the brand does.

ABOUT ZULAL WELLNESS RESORT BY CHIVA-SOM
Zulal Wellness Resort is a unique wellbeing haven, brought to life by Qatar's premier master developers, Msheireb Properties. Set to be Qatar's largest wellness destination, and the Middle East's first wellbeing resort, Zulal is expected to be a major tourism transformation driver, bringing the world's attention to Qatar and the region. The resort offers guests unique services and treatments, which are based upon Islamic wellness principles and use indigenous ingredients to the region. Located in Khasooma, a private coastal location to the north of Qatar, Zulal Wellness Resort brings visitors a luxurious experience, offering the highest international standards that are inclusive of local family values.
Zulal is an Arabic word which means 'pure natural water', offers two exclusive venues for health and wellbeing. Adults can access a wide range of therapeutic and lifestyle enhancement treatments based upon traditional Arabic and Islamic wellness principles through the destination. The Family Wellness Resort enables families to enjoy positive wellness experiences together, inspiring young children and their parents with fun, interactive activities that help them learn more about adopting a healthy lifestyle.